Carting/Drafting
For class times/schedules, please email us at kathyteecreek@gmail.com and include your name and the phone number you can be reached at, or call us at 905 384-2531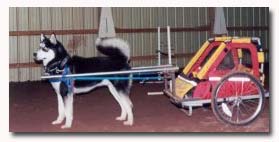 Although the more common breeds for Draft Work are the Newfoundland and the Bernese Mountain Dogs, carting or draft work, can be fun for a variety of breeds. Used in therapy work and parades, carting can be a rewarding experience for all members of your family. You can teach your dog to carry groceries home and even pull the little ones along in a wagon. Carting offers something for everyone.
We offer classes for competition in draft dog tests and/or classes enabling you and your dog to learn that carting can be just as natural as your evening walk together. We can build a cart for you and your dog or we may be able to modify something with wheels.
Dogs must be over one year of age and have basic obedience training with off leash control, including the ability to understand a sit and down/stay command.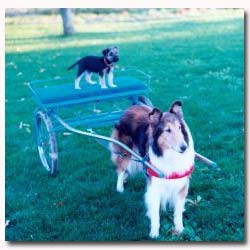 For more information on carting classes, please email us.
Note to Class Attendees:
DO NOT FEED YOUR DOG BEFORE CLASS!
You will need to bring a flat collar, 6 Ft leash, toys and lots of interesting treats.
Suggestions for treats: cut up dime size wieners, Cheerios with garlic powder sprinkled on them, Rollover (sausage shaped product) most pet stores carry it, cooked chicken/beef/turkey, cooked beef heart, cooked liver (use sparingly), cut up cheese or any other product your dog will eat.
You should have at least 5 different treats with you when you come to class.