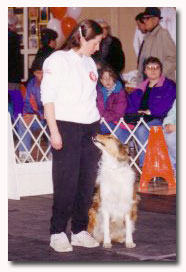 Kathy Warner

Kathy Warner's passion for animals began early while growing up on a mixed farm in Ontario. Working early on at the Horse Track and Show horse Stables and also with the Humane Society, Kathy developed a life long interest in animal behavior. Beginning with her first Rough Collie, "Katie", Kathy found the rambunctious dog needed some way to channel her energy. Calling her "hell on wheels", she began training Katie in earnest and it was the ensuing bond that touched Kathy's heart, resulting in Katie becoming a well known champion in dog circles.

Kathy's knowledge and love of the breed continued as Katie produced several litters of champions herself! Soon, word spread and people began asking Kathy for advice regarding training methods and results. Before embarking on a career in dog training, Kathy traveled the continent searching for new methods under some of the most respected people in the canine world: Bob & Marian Bailey, Bob Vest and Terri Arnold are a small part of an impressive group of professionals Kathy sought out to expand her knowledge. Regularly attending APDT, PABA and CPDT seminars for example, Kathy sought out the expertise of the "best in the business" and armed herself with a strong foundation to add to an already burgeoning career.

Already known and respected with some clientele, Kathy and husband Dave Harris opened Tee Creek Versatility Club in 2000. Today the Club boasts a number of regulars along with many newcomers who enjoy a variety of canine related activities. In her spare time, you can always find Kathy doing what she loves to do best: working with her dogs!