Facilities
With comfort and safety in mind, training facilities at Tee Creek are available year-round!
Herding – Inside and Out
Fenced outdoor areas range from a 15' round pen up to a 5 acre field, and include a 100' X 100' schooling area with adjoining covered pavilion, an arena trialling field complete with take/exhaust pens and all required obstacles, and various other sized and shaped enclosures.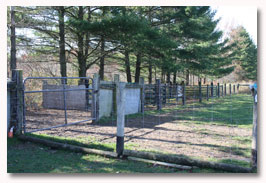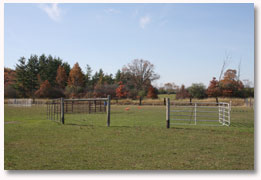 And that's just for working sheep and cattle!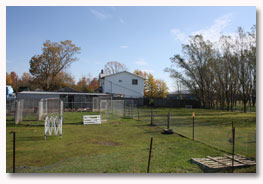 The ducks have their own training facilities of varying sizes to suit all levels of training. The duck pens are covered with shade cloth to ensure optimum conditions for people, dogs and livestock in hot weather.
When inclement weather strikes, we simply move indoors!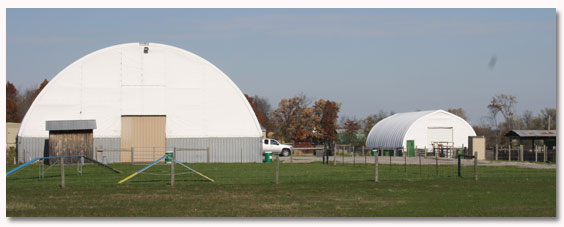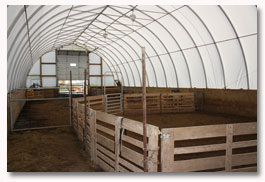 The "library" as it is known, is equipped with its own round pen, a chute (or raceway) and small pens – all for working sheep and cattle throughout the year. The ducks are worked in the coverall, which boasts 8,000 square feet of sand footing – easy on dogs, handlers and livestock!
Agility goes Year Round
Two fully equipped outdoor yards offer inviting locations for both training and trialling. When the days get short and the weather deteriorates, the equipment moves into the coverall , where the dogs can train and trial on the sand footing indoors.
The "Portable"
The portable building offers a climate controlled environment for puppy classes and obedience training throughout the year.
"Kate's Place"
Also fully heated and air-conditioned, Kate's Place has guest bedrooms, shower and washroom facilities and a full kitchen for the tasty meals which Dave prepares for our various functions. In addition, the main room sets up as a classroom .